History of Crawford, Mississippi
Crawford was named after a Baptist minister, Rev. Peter Crawford, about 1852.289  Known as Crawfordsville until 1870 and then Crawfordville until the 1879 when it was changed to Crawford.   The Mobile and Ohio Railroad came though Crawfordsville in 1857.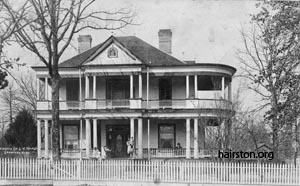 Above is the home of George William Hairston built in 1909 on Main Street in the town of Crawford.  The photo shows G. W. Hairston, his third wife Ela Tharpe and nurses holding their children Brown and Nicholas.  George's first two wives, Mary Watt Hairston and Virginia Antionette Ervin died in childbirth.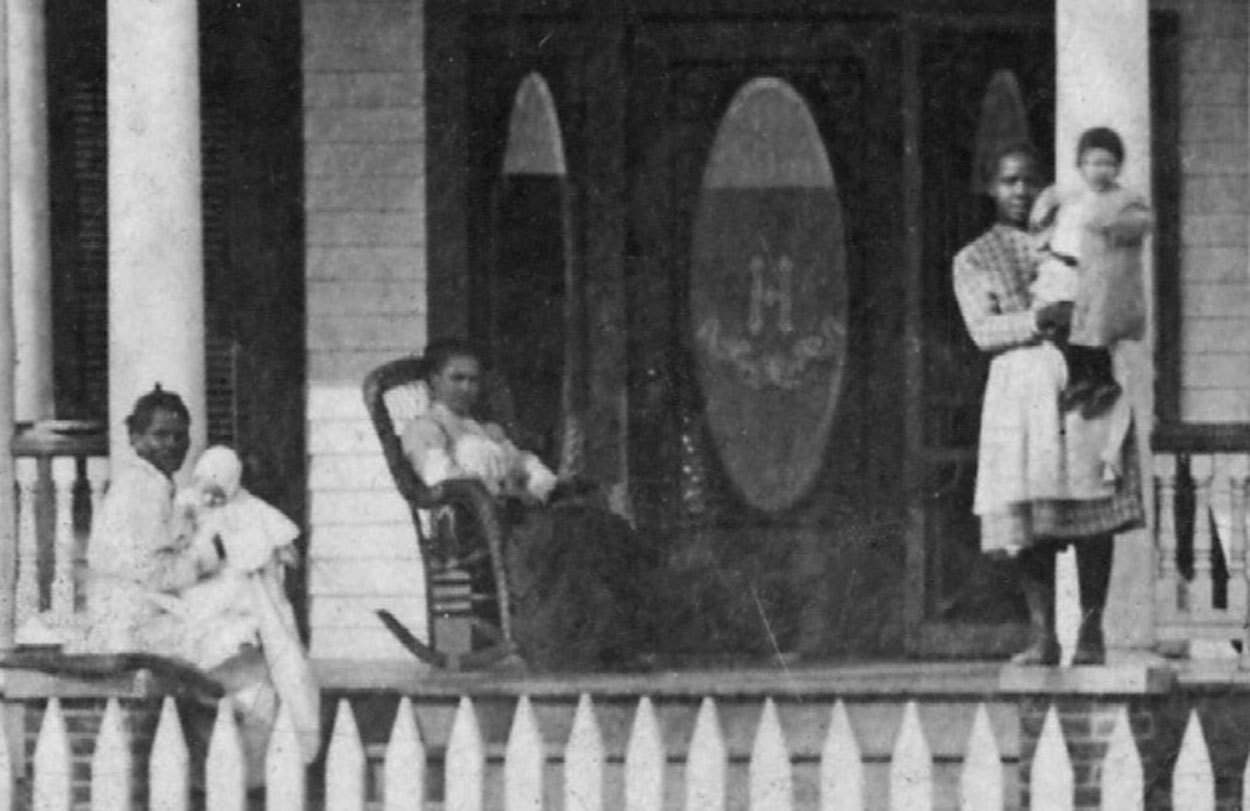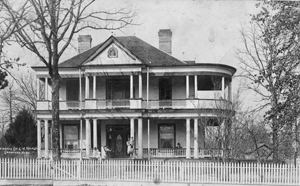 Crawford, Mississippi Time Line
 
1821 - The Robinson Road was built in 1821 and went from Jackson to Columbus passing near Crawford.  In Columbus it connected with Andrew Jackson's Military Road that went from Nashville, Tennessee to New Orleans, Louisiana.
1822 - The Robinson Road was made a U.S. Mail route
1830 - Lowndes County created
1830 - Treaty of Dancing Rabbit Creek with Choctaw Indians
1832 - Treaty of Pontotoc Creek with Chickasaw Nation, they are relocated to Oklahoma in 1837-1838
1832 - John Dailey operated the Wayside Inn on the Robinson Road
1842 - Post Office opened at Dailey's Cross roads (southwest of Crawford). Postmaster was John A. Dailey.
1850 - Rev. Peter Crawford is Baptist Minister in Lowndes County in the 1850 Census
1852 - Town of Crawfordsville was given it's name
1852 - Crawfordville Male and Female Institutes are incorporated by J. L. Edmonds, James A. Baird, James H. Gilmore, Mitchell Peden, John M. Lowry, John F. Carr, William B. Cavanah, N. F. Scales and P. H. Whitlock on October 21, 1852.
1854 - Town of Crawfordsville was incorporated on January 26, 1854.  The city extended "one-fourth of a mile in all directions, from a point commencing midway in a right line between the present residence of N. F. Scales, and the house now occupied as a Female Institute, by Jesse Nash, in said town."
1857 - J. W. Carr deeded land for railroad in 1857 and later was depot agent
1857 - Mobile and Ohio Railroad went thru Crawford at mile marker 211.12 - Brooksville 206.2, Penns 214.95, Artesia 219.26, Mayhew 224.12
1857 - Eli Crowder is Postmaster of Crawfordville, April 7
1858 - Albert G. Robey is Postmaster of Crawfordsville, Feburary 12
1858 - William Conner is Postmaster of Crawfordville, April 27
1859 - William Huckaby is Postmaster of Crawfordsville, Janauary 14
1859 - Theophilus Harvey is Postmaster of Crawfordville, January 15
1861 - Mississippi secedes from Union on January 9, 1861.  The Confederate States of America formed.
 
1861 - The Prairie Guards, Company E was formed on February 15, 1861 at Crawfordsville. 
1861 - The Prairie Guard entered Confederate service at Lynchburg, Virginia May 13, 1861.
1862 - Union Army under U.S. Grant advances toward Corinth (north end of railroad line running through Crawford) leading to Battle of Shiloh
1863 - Crawfordsville soldiers killed at Gettysburg:  William A. Allen, John W. Ball, Thomas Carr, George W. Edwards, Pleasant Goolsby, Henry P. Halbert, J. Leander Huckaby, Jonathan T. Jones, Liberty S. Martin, John R. Mimms, Thomas P. Mimms, Fletcher S. Norwood, David C. Wilkins, and Henry M. Wilkins.
1865 - Gen. Robert E. Lee surrendered on April 9, 1865 and Mississippi on May 4, 1865.
1865 - John H. Kennon is Postmaster of Crawfordville, December 11
1866 - Memorial Day founded in Columbus on April 25
1866 - John S. Allen is Postmaster of Crawfordville, May 31
1867 - Joseph D. Gunter is Postmaster of Crawfordville, April 29
1868 - Charles Keier is Postmaster of Crawfordsville, October 19
1870 - Mississippi readmitted to Union
1870 - The "s" was dropped from Crawfordsville, changing the city to Crawfordville
1873 - James Nance was Postmaster 5 Dec 1873-19 Dec 1878 
1879 - The "ville" was deleted from Crawfordville and the city became Crawford
1880 - Agricultural and Mechanical College of the State of Mississippi founded - later became Mississippi State University
1883  - "August 17, Friday night fire destroyed 12 stores and 6 warehouses, loss of $100,000, insurance $16,000" Memphis Daily Appeal 19 Aug 1883 - "On one side of street were B. V. Halbert and Company, Woodin, Jim Nance, Irvin & Hairston, Randall & Smith, Smith & Reeder, Kier & Carr Brothers, N. Scales and Company and on the oppisite side of street, Ferguson, Brooks & Peace, W. P. Wyatt, Lawrence & Hales, Theophilus Harvey."  From The Autobiography of a Little Man. p. 62-63.
1884 - Mississippi Industrial Institute and College for the Education of White Girls was formed in 1884 in Columbus and became the first public women's college in the United States, later named Mississippi State College for Women (MSCW) in 1920 and then Mississippi University for Women (MUW) in 1974
1906 - Railroad Conductor R. H. Harrison of Mobile & Ohio Railroad, was shot and killed
1908 - Battleship USS Mississippi (BB-23) launched 1905 - sold to Greece in 1914 and sunk by Germans in 1941
1909 - Prohibition starts in Mississippi and does not end until 1966, 33 years after the 21st Amendment ending prohibition
1915 - First concrete paved road in Mississippi is part of US-45 in Lee County and is 49 miles long
1917 - Battleship USS Mississippi (BB-41) launched in 1917 and earned eight battle stars in WWII.  She fired the last gun salvo in naval history to be fired by a battleship against another heavy ship

1920 - Women win right to vote
1921 - Crawford Bank was robbed Sunday, 27 Feb 1921 for $50 and $12,000 in registered bonds - A. J. Ervin was bank cashier
 
1932 - Mississippi starts a state sales tax of 2%
 
1933 - Prohibition repealed, but Mississippi stays dry
1956 - The Rebel train south bound leaves Okolona, MS (near Tupelo) at 4:00AM and stopped at Artesia 4:57AM, passing thru Crawford at 5:25 AM and arriving in Meridian at 7:05 AM.  By rail from Artesia you could go to Tupelo in 57 minutes, to Meridian 1 hour 50 minutes, Mobile 5 hours 40 minutes, Tuscaloosa 2 hours 22 minutes, Montgomery 6 hours 35 minutes.  Trains went between 45 and 59 mph